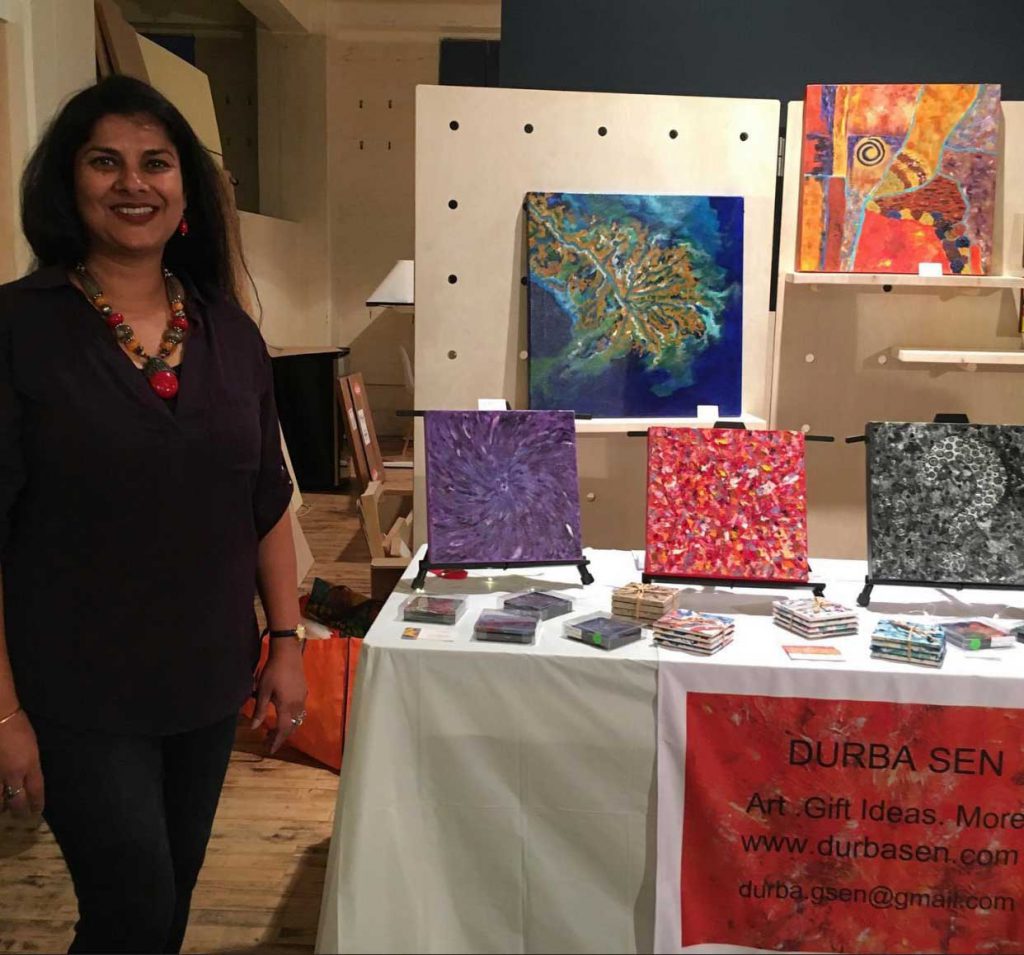 Color and texture are the elements that permeate through my art. Vibrant colors in different hues and shades create a dynamic feel on the canvas. To me, the canvas is a blank slate where I express my thoughts, feelings, emotions, views, and my journey through life by combining realism with abstraction. My paintings are characterized by an innovative and versatile use of color and imagery.
Brushes, palette knives, household objects and my hands are some of the tools I use to define my creativity. Having grown up in the East, I love the color, smell and fragrance of spices, flowers, the celebration of life in festivals, and the hospitality of the people I have met during my travels in India and in other countries around the world. My art is abstraction of my journey, observations and views in life!
My paintings are primarily abstract in nature, touching genres like geometric abstractions, landscapes and seascapes, socio-political and cultural issues that affect and touch my life.
I started a new series of geometric abstraction during the pandemic of 2020. The rhythmic overlapping of conspicuous colors and shapes create harmony, depth and balance much like a perfectly designed musical score. A love of detail and contrast in spontaneity has become the focus of this series of geometric abstractions.
The Earth and the world we live in and the one we pass on to the next generation with climate change and global warming play central to my being and sees the portrayal of fauvism style in my naturescapes; Women's rights and freedoms are the center of my being, the centennial implication for the 19th Amendment and women's rights, which we still have to fight for, the racial and gender issues plaguing the world, today find representation in my women muses body of work. The abstract rendition of women has been influenced by a confluence of the Picasso, Mondrian and the Malevich style that invoke curiosity often leading to a dialogue.
Texture adds an interesting and fun aspect to my abstract expressionistic paintings, through paper-mache, sand, wax, texture paste, fibers and much more. They invite the viewer to explore the depths and spaces created by these textural play on the canvas.
Together with oils and acrylics, bold, vibrant colors and textures create dynamic, exciting and interacting compositions, depicting my imaginations and observations through my journey in life. My paintings reflect a rhythmic arrangement of abstract geometric forms, color and imagery, inviting the viewer to draw their own conclusions in the narrative depth and symbolism they seem to partake.